A Dental Implant in layman's terms acts as an artificial root placed in the jaw for a replacement tooth or as an anchor for bridgework. The implant sits below the gum in the jawbone itself. An abutment attaches to the implant, and then a crown, which is a ceramic tooth, is placed over the abutment.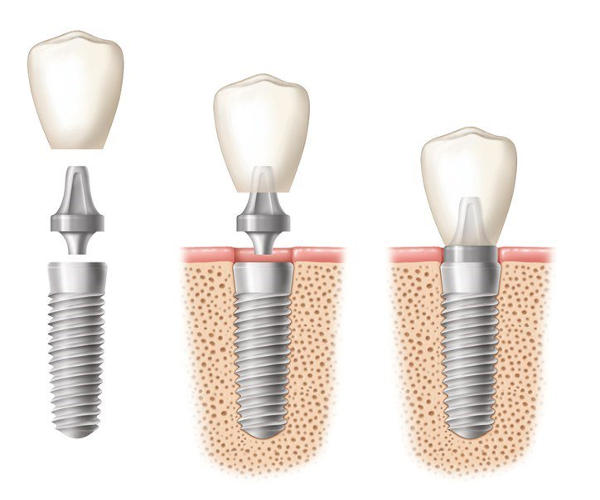 For patients who are in good general oral health but have lost a tooth or multiple teeth due to injury, periodontal disease, or some other factor, dental implants can be a great solution. Unlike a bridge, dental implants do not rely on surrounding teeth for support either. This allows you to keep more of your natural teeth intact as bridges usually require reshaping of the support teeth. For patients thinking about dental implants in Raleigh, NC, the expert dentists at Gover and Gover look forward to consulting with you on a solution that's best for you.
Dental Implants Look Natural and Feel Comfortable
The great thing about this advanced cosmetic dentistry procedure is it provides a very natural look and natural-feeling teeth. As time goes by, it's possible you will completely forget about your old missing tooth. Ultimately, your confidence about your teeth affects how you feel about yourself, and the more natural your tooth replacement solution looks and feels, the more confident you will be.
In the past, maybe you would hide your smile because of gaps in your teeth or maybe your dentures didn't fit comfortably. Maybe you've had difficulty in chewing when you are eating. The good news is with dental implants, you will get your smile back and can expect to talk and eat in comfort and confidence.
Dental implants can last for a long time with proper care and maintenance. Having this procedure completed can be done on one or more teeth without affecting neighboring teeth. Implants can be used to support a bridge and can provide support for a denture, making it more secure and comfortable to you.
Who should get implants?
The ideal candidate to have dental implants is one who has a missing tooth or teeth but otherwise good overall oral health. The implant needs solid support requiring adequate bone in your jaw. Those who have healthy gum tissues and that are free from periodontal disease are the best candidates for dental implants.
Dental implants are made up of titanium and metal fixtures that are placed within the jawbone with great precision. Over time the implants essentially become one with the gum tissues and underlying bone in the mouth. As such they provide a highly biocompatible surface, which enables bone to completely fill in and provide long-term stability.
As you approach a decision to get dental implants, you won't find a nicer team than Doctors David and Susan Gover. Your dentist will communicate with you regarding how and where your implants should be placed and will work with you to make your dream come true for having the beautiful teeth and smile you deserve.
Caring for Dental Implants
Once the implants are in place, they also require the same care as you would give to natural teeth. It is important to keep your implant clean and free of plaque, so brushing and flossing still apply. After treatment your dentist will work closely with you to develop the best care plan for you. Periodic follow-up visits will be scheduled to monitor your implant, teeth and gums to make sure that they are healthy.
Recovery from the dental implant procedures depends on a number of factors, one of which includes the various procedures required to complete your treatment. However, it is generally recognized that once an implant has been placed, it's imperative to maintain oral hygiene habits to ensure proper fusing of the implant and bone structure. Although the crown itself is rated for 10 – 15 years, if cared for properly, the implant restoration can remain in place for a lifetime.