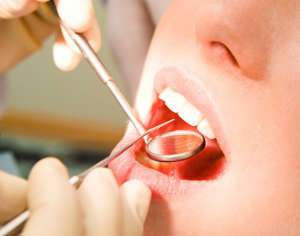 Your Raleigh Dentists at Gover & Gover Dentistry have been offering their dental services, including general, cosmetic and restorative dentistry, since 1999. They offer an extensive list of dental services from teeth cleanings and oral exams to restoring a single tooth with a simple filling to more complex restorative dentistry, including dentures, implants, crowns and bridges.
The opportunity to receive great cosmetic dentistry in Raleigh has never been better, and fortunately, Dr. David and Dr. Susan are among the best cosmetic dentists in the area. Although they offer a full range of general dental services, they have a special interest in cosmetic dentistry and particularly an emphasis  on restoring smiles through the use of cutting edge techniques and the latest materials for veneers, crowns and tooth-colored restorations.
Modern Approach to Dental Services
In fact, the Gover's recent move to a larger, more modernized office has allowed them to stay at the forefront of the dental industry for these restorative and aesthetic dental services. Naturally they insist on keeping up with the latest developments in materials and technology which provides their patients with the comfort that they are getting the very best in modern dental care.
Safe Dental X-Rays with Digital Radiography
Gover and Gover Dentistry was one of the first dental offices to switch to digital x-rays, known as "digital radiography." These modern digital x-rays expose patients to 75-90% less radiation and can be read on a computer screen as opposed to a tiny little x-ray film. In addition this technology allows much easier communication with other specialists in the dental field should that become necessary.
Experienced Team of Dental Hygienists and Assistants
The Govers have a team of 5 experienced dental hygienists and 4 dental assistants who have been with them for years. They are just as dedicated as the Govers to your comfort and well-being while in the chair and will make sure you get a thorough teeth cleaning experience. They can handle everything from simple tooth cleaning to soft tissue management. They also use the latest in ultrasonic cleaning devices.
Partnering with Dental Specialists
In addition to the fine work they do themselves, Dr. David and Dr. Susan work with some of the finest specialists in the country. Root canal specialists, periodontists, orthodontists, maxillo-facial surgeons and implant surgeons. If needed, they can match a patient's unique needs to the right specialist without forcing the patient to endure the hassle of having to go figure out who may be best suited for that procedure.
Specializing in Cosmetic and Restorative Dentistry
Much of Gover and Gover's work involves porcelain veneers, crowns and implants to restore smiles that have been compromised due to tooth decay, trauma or wear. When too much tooth structure has been lost due to wear or decay, implants, crowns and veneers can restore a happy, healthy smile. Teeth Whitening is another very popular cosmetic dental procedure that can have a dramatic impact on one's smile while giving a more youthful appearance. We can perform same-day, in-office whitening or provide take-home trays with detailed instructions for patients who prefer to go at their own pace.
Lab Work by the Finest Local "Made in the US" Dental Labs
Having the advantage of being located in the heart of the state near countless university dental programs and the Research Triangle Park, Gover and Gover Dentistry has the advantage of using only the finest American dental labs in the Raleigh area. Unlike some labs where work is farmed out overseas, you can trust that all lab services are 100% "Made in the USA." The Govers have worked with the same labs for over a decade with the assurance that they use only the finest materials and latest technology.
Focused on Patient Comfort and Safety
The Govers have worked hard to assemble a team of conscientious professionals to guarantee their patients receive only the finest treatment. Gover and Gover Dentistry follows all HIPPA and OSHA guidelines. All modern cleanliness and sterilization practices are closely adhered to including "autoclaving" of dental instruments and taking advantage of single-use items when appropriate.
In the past we've heard horror stories in the news about less than ethical dental practices. For many, a trip to the dentist is unnerving enough without having to worry about your dentist cutting corners on quality materials or the people that provide your dental care. And it's little wonder patients still avoid the dentist due to fear from a previous dental treatment. Sedation is often considered the answer to overcome high fear situations, but the Gover's believe sound dental technique with an eye toward patient comfort is best in the long run without resorting to sedation. You can rest assured your experience at Gover and Gover will be professional, and you'll leave knowing you've received the best dental care possible from people that care about your satisfaction.
If you require the help of a trusted dentist in Raleigh, NC, look no further than Gover and Gover Dentistry. The Govers, Dr. David and Dr. Susan, and their team look forward to meeting you and getting to know you. Call them for all your dental services needs at 919-283-4408 and you'll see why so many of their patients feel like family.
Raleigh Dental Services Offered
General Dentistry
Cosmetic Dentistry
Restorative Dentistry
Pediatric and Geriatric Dentistry
Crowns and Bridges – PFMs (porcelain fused to metal with emphasis on all-ceramic materials)
Composite Restorations
Composite and ceramic veneers
Full coverage ceramic crowns
Teeth Whitening and teeth bleaching
Tooth Replacement Services
Partials, complete dentures, single implants, multiple implants, implant supported partials and dentures
Root canals and tooth extractions – limited
Basic and advanced teeth cleanings
Digital Radiography
Oral Exams
Nightguards for teeth grinding and mouth guards for sports
Standard dental services include routine oral cancer screenings at all hygiene visits