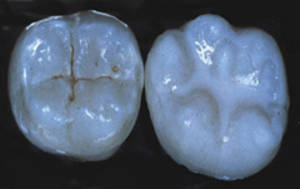 If you are curious about dental sealants, they can be a fantastic way to ward off tooth decay. We all know it's a good idea to brush regularly, floss and avoid sugary foods in an effort to avoid cavities or even the type of tooth decay that leads to root canals. But as good as these suggestions are to promote long-term oral health, dental sealants may be the missing extra step that takes tooth decay prevention even further.
What are Dental Sealants?
Sealants are basically a thin, plastic coating that is applied (literally  "painted") directly onto the tooth. Sealants serve as a great preventive dental treatment. As seen in the photo on this page, the chewing surfaces, such as those of the molars, are the primary focus of a sealant application.
The teeth are first prepared with an etching compound and then the sealant is applied. The barrier provided by the sealant locks out the elements that promote tooth decay. So instead of just removing the foreign materials that get on your teeth throughout the day, the dental sealant prevents the materials from ever touching the tooth enamel. Thus, the decaying process never has a chance to even get started.
At Gover and Gover, our Raleigh dental patients often look to sealants as a long-term preventative dental care solution, and for good reason. Here are a few benefits of  sealants:
What are the benefits of Dental Sealants?
Long-Lasting Protection – Sealants can last up to 10 years. Reapplication may be required after that, but the prevention of long-term tooth decay makes it well worth it.
Convenient – The application of sealants is quick and painless plus there are no dental appliances to remove or rinse at the end of the day. Unlike a retainer or a denture there is nothing to misplace or lose.
Aesthetics – Sealants can be clear, white or tinted and will not affect the appearance of your teeth. In fact, the positive benefits of sealants will actually work to preserve and enhance your smile's beauty!
Application is Quick and Painless
The great thing about the application of dental sealants is there is no drilling or discomfort. The process is fast too … generally taking less time than getting a tooth filled.
Who should consider Dental Sealants?
Gover and Gover Dentistry recommends the use of sealants for children beyond the age of 6 because of the higher risk of tooth decay that they face. The snacking habits of children in addition to inadequate teeth brushing make them naturally more prone to cavities. Sealants can be a great solution in the battle against tooth decay in these early years.
However, sealants can be just as effective in preventative dental care for adults too, particularly patients whose teeth seem to have unusually deep crevices known as pits and fissures. Unfortunately, these crevices provide plenty of room for bacteria to grow, but can be too narrow for the bristles of a tooth brush to adequately clean. In this situation dental sealants can be of great benefit to avoid the trapped food particles and bacteria in the deep pockets of the chewing teeth.
Contact Gover and Gover Dentistry today for a consultation to find out if dental sealants are right for you or your children!