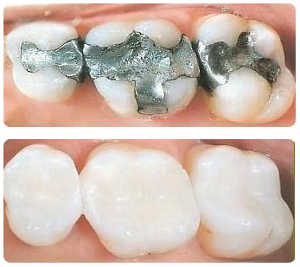 Thanks to technological advances in composites, resins and porcelain ceramics, there are now many options for Tooth Fillings in modern dentistry. The trend is steadily moving away from the "metal mouth" look toward more natural looking Tooth Colored Fillings and Restorations. However, there are still many people with silver/mercury fillings in their mouths from years past, and these may still be the best option for some patients. The argument against these fillings is they are not as pleasing to the eye, and due to inherent design and preparation differences, they can result in a weaker underlying tooth structure.
Composite Bonding, Porcelain Inlays and Tooth Colored Restorations create fillings that are not only beautiful, and for the most part unnoticeable, but also add strength to weakened teeth. These restorations are esthetically pleasing and very strong thanks to new bonding technologies.
At Gover and Gover Dentistry in Raleigh we utilize the latest technologies and cosmetic and restorative skills to repair cavities and damaged teeth or to replace older amalgam tooth fillings with new tooth colored fillings and restorations. We invite you to call us at 919-283-4408 for a consultation to learn about your options and how to best preserve or restore your smile and dental health in the process.
Dental Fillings and the Makeup of a Tooth
The outer part of the tooth is the enamel and is one of the hardest natural substances produced in the animal kingdom. The enamel is not a living tissue but a close-knit web of calcium crystals. In the dental world, porcelain most closely matches the properties and appearance of tooth enamel.
The inner portion of the tooth is known as the dentin. A softer, more porous material than enamel, the dentin resembles bone and is made up of microscopic collagen tubes and calcium crystals. The dentin is a living tissue and is very sensitive, transmitting feeling through the pulp, or nerve tissue, at the core of the tooth. Versus a hard metal filling, modern composites made of plastic filler and silica resin more closely mimic the properties of the dentin.
In the past hard, rigid filling materials were used in dentistry in an effort to make stronger teeth when repairing tooth decay and damage. Over time we've learned that these rigid materials did not work as well as once hoped. A rigid metal filling does not bond directly to the tooth thus no sealing benefit against decay or infection is gained. In addition the hard filling passes significant bite force to other portions of the tooth that are now weakened from drilling. One of the problems with metal or amalgam fillings is they require undercutting to create a mechanical lock for the filling as there is no natural bond with the tooth. As a result of these disadvantages of rigid filling materials, tooth decay and cracking often return. It is worth noting, however, that the metal amlagum fillings themselves are more durable and long-lasting.
Now that the bond between dentin and enamel is understood so much more, a more successful connection can be made between the tooth and the fillings themselves. Modern bonding materials applied to the dentin can seal out unwanted encroachment by bacteria and help the new composite filling adhere to the dentin and enamel better. This results in a more comfortable, stronger and more protected connection that ultimately is more functional and aesthetically pleasing.
The Steps Involved in Filling Cavities
Numb the area around the tooth to be filled with local anesthetic.
Remove the decayed area of the tooth with dental drill or laser.
Test the area to determine if all decay has been removed.
Prepare the space for the filling by cleaning the cavity of bacteria and debris.
Place the filling material.
Final finish and polish the filling.
Tooth Colored Composite fillings require a few extra steps. After removing the decay and cleaning the cavity area, the tooth-colored material is applied in layers. A special light "cures" or hardens each layer after it is applied. Once the multi-layering is complete, the composite material is shaped to the desired look, any excess is trimmed off,  and then the final restoration is polished.
Tooth Fillings and Materials
In the recent past, tooth fillings were made primarily of a mixture, or amalgam, of metals. Today the choices in materials for dental fillings include gold; porcelain; silver amalgam (which consists of mercury mixed with silver, tin, zinc, and copper); or tooth-colored plastic and glass materials known as composite resin fillings.
Gold Fillings
Gold fillings have the advantage of being durable with a 10-15 year life and they don't corrode in addition to being strong enough to withstand chewing forces quite well. Of course they are expensive, require extra visits to place, can create what is known as "galvanic shock" if placed immediately next to a silver filling, and finally the aesthetics can be a love/hate situation for the patient. Some like the look of the gold while others would prefer a more natural tooth colored restoration.
Silver Amalgam Fillings
Silver fillings are also very durable with a 10-15 year life, have great strength and are less expensive than gold or composite fillings. Unfortunately silver fillings lose in the aesthetics department since they don't match the color of the teeth. They also require the removal of more original tooth structure to make enough space to hold and lock in the filling. Amalgam fillings have been known to create a grayish hue in the surrounding tooth, and lastly they are susceptible to a wider range of expansion and contraction issues in the presence of hot and cold liquids which can lead to a higher incidence of cracked and fractured teeth.
Dentists often prefer dental amalgam because it is easier to work with than other alternatives, especially in areas of the mouth that are difficult to keep dry during the installation. Composites require a perfectly clean and dry surface for successful repair. Many dentists consider amalgam stronger than the resin-based composite, and therefore use amalgam for back teeth fillings. Many patients prefer dental amalgam for the same reasons, plus its cost-effectiveness and ability to fill cavities quickly. By some estimates, more than 1 billion amalgam fillings are placed annually.
Tooth-Colored Resin Composite Fillings
Tooth-Colored Composite Fillings have several advantages. First and foremost they are the most aesthetically pleasing of the choices for tooth fillings as the shade and color can be closely matched to the patient's existing teeth. This is particularly important in front teeth or visible portions of teeth to be filled. Composite fillings actually chemically bond to tooth structure offering further support and can be used to fill in decayed areas as well as make repairs on chipped, broken or worn teeth. In addition, unlike the preparation for amalgam fillings, less tooth structure may need to be removed to prepare for a composite filling.
There are some disadvantages to consider, however, when selecting tooth colored composites. It is important to discuss these with the Govers when you have your initial consultation and exam. One of the drawbacks is longevity as composite fillings with an average life of 5 – 8 years do wear out sooner than amalgam fillings. Advances in materials are being made every day in an effort to close the gap on longevity.  Chipping is another disadvantage that may occur on composite fillings in certain locations.
The process to apply composite fillings can take up to 20 more minutes than amalgam fillings which obviously leads to increased chair time at the dentist office. Additionally, extra visits may be required if composites are used for inlays or onlays.
Finally, composite fillings can be up to twice as expensive as amalgam fillings.
Indirect Fillings – Inlays and Onlays
Indirect fillings are similar to composite or tooth-colored fillings except they are made in a dental lab, and they require two visits before being placed. When there is not enough tooth structure left to support a filling, but it's not so damaged as to need a crown, then indirect fillings are a logical choice.
In the first visit, tooth decay or an old filling is removed. Then an impression records the shape of the tooth being repaired and the teeth surrounding it. The impression is sent to a dental lab that will make the indirect filling. A temporary filling, described below, protects the tooth while the final filling is being made at the lab.
During the second visit, the temporary filling is removed, and the fit of the indirect filling is checked by the dentist. Provided the fit is correct, the dentist then permanently cements the filling in place.
There are two types of indirect fillings — inlays and onlays.
Inlays are similar to regular fillings and are fitted within a cavity that does not extend out beyond the cusps or peaks on the chewing surface of the tooth.
Onlays, sometimes called partial crowns, are more extensive than inlays, covering one or more cusps. A full crown can be considered an onlay that provides complete coverage of the damaged tooth.
Inlays and onlays are more durable and last much longer than traditional fillings — sometimes up to 30 years. They can be made of tooth-colored composite resin, porcelain, or gold. Inlays and onlays do weaken the tooth structure, but do so to a much lower extent than traditional fillings. Resin onlays are bonded to the teeth creating a tight, superior fit. For instances where much of the tooth structure has been lost, these restorations are an excellent choice. The tooth remains intact and stronger than before.
Besides indirect inlays and onlays, there are also direct inlays and onlays. These follow similar processes and procedures as the indirect, but the difference is that direct inlays and onlays are made right in the dental office and can be placed in just one visit. The type of inlay or onlay used depends on how much sound tooth structure remains in addition to cosmetic considerations.
Temporary Tooth Fillings
Temporary fillings are used in the following instances:
For fillings that require multiple visits — for example, before placement of gold fillings or for indirect fillings using composite materials
Following a root canal
To allow a tooth's nerve to "settle down" if the pulp became irritated
If emergency dental treatment is needed
As the name implies temporary fillings are not meant to last, typically only a month. It is important to contact your dentist to have a temporary filling replaced with a permanent one. The tooth could become infected or other complications could develop if not taken care of.
Replacing Silver fillings with a Tooth Colored Restoration
Silver amalgam tooth fillings can be replaced with tooth colored restorations – onlays. This process requires two appointments.
First Visit:
The old filling is removed including any additional tooth decay.
An impression is made of your teeth and a model of your teeth is made and sent to the lab.
A temporary onlay is placed on the tooth until the next visit.
Second Visit:
The temporary onlay is removed.
A conditioning gel is placed on your tooth to prepare it for the new onlay.
Bonding cement is placed on the tooth and is then cured with a high intensity light to bond the resin to the tooth.
The tooth is polished for final fit and finish.
Regardless of the type of restoration you choose, Gover and Gover Dentistry is prepared to exceed your expectations in returning you to oral health and a happy smile. If you need tooth fillings or any other cosmetic or restorative dentistry please call us at 919-283-4408 to schedule an exam and consultation today.